Summary
You get the following error message when trying to register your SecureCloud Account: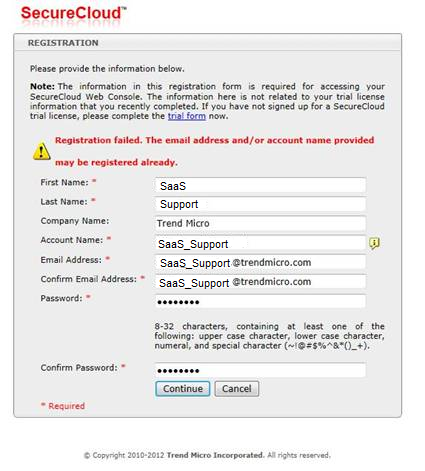 Registration failed. The email address and/or account name provided may be registered already.
Details
Public
This issue happens because you have already used your email to activate another SecureCloud account. You need to use an unregistered email address to activate SecureCloud.
To activate your SecureCloud account, choose any of the options below:
OPTION 1: Use a different e-mail address
You can use another e-mail address that has not been registered under SecureCloud to continue with the registration.
OPTION 2: Contact Trend Micro Technical Support
If you wish to use the email address you previously registered for other Trend Micro products/services, submit a case online to Trend Micro Technical Support to delete your previous accounts.
Internal
Partner