Summary
ServerProtect for Network Appliance Filer (SPNAF) 5.8 and ServerProtect for Storage (SPFS) 6.0 both utilize the Messenger Service in a Windows Server 2003 platform to offer a notify function regarding virus infections for RPC scanners.
It is described in the Getting Started Guide (GSG) document that ServerProtect can notify the user and the network administrator if a client has uploaded or accessed an infected file. Now, this function has reached EOS in the Windows Server 2003 platform and later Windows platforms.
Trend Micro recommends turning off this notify function on your SPNAF server and SPFS server.
The Messenger Service was discontinued since Windows Vista and Windows Server 2008, so the notify function no longer works on those platforms.
Details
Public
Below is the notify function described in the GSG: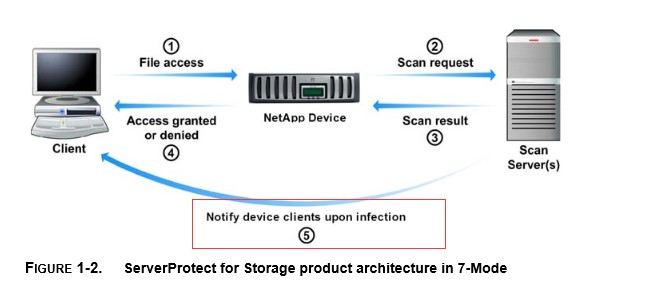 To turn off the notify function:
On the ServerProtect Management Console, open the filer list.
Click on Options and unselect Notify a filer client upon infection.
Internal
Partner