Summary
There are two (2) major function categories in TMMS - the mobile device management (MDM) related features and the security related features. The MDM application needs to be installed with an MDM profile on an Apple device. Apple devices only allow one MDM profile to be installed. If there are other MDM solutions that need to be installed, we can provide TMMS Security Only Mode.
TMMS Security Scan Only Mode has security scan related functions only, that is why it will not install an MDM profile. TMMS 9.7 can integrate with AirWatch and MobileIron, TMMS 9.8 SP1 can integrate with IBM MAAS360 and Citrix XenMobile, while TMMS 9.8 SP3 can integrate with BlackBerry UEM.
BlackBerry UEM is a provider of MDM software and standalone management systems for devices, content, applications, and email. To provide security information in the third-party MDM console, TMMS Security Only Mode will share security information to the third-party MDM, then the mobile administrator can see the security information using the third-party MDM console. This document gives detailed steps on how to integrate with BlackBerry UEM.
Details
Public
Requirements
To integrate other MDM solutions with Trend Micro Mobile Security, you must use the following:
Mobile Security for Enterprise 9.8 SP3 or later
Local Communication Server or Cloud Communication Server configured in Mobile Security
Architecture
The following image shows the high-level architecture of integration with BlackBerry UEM.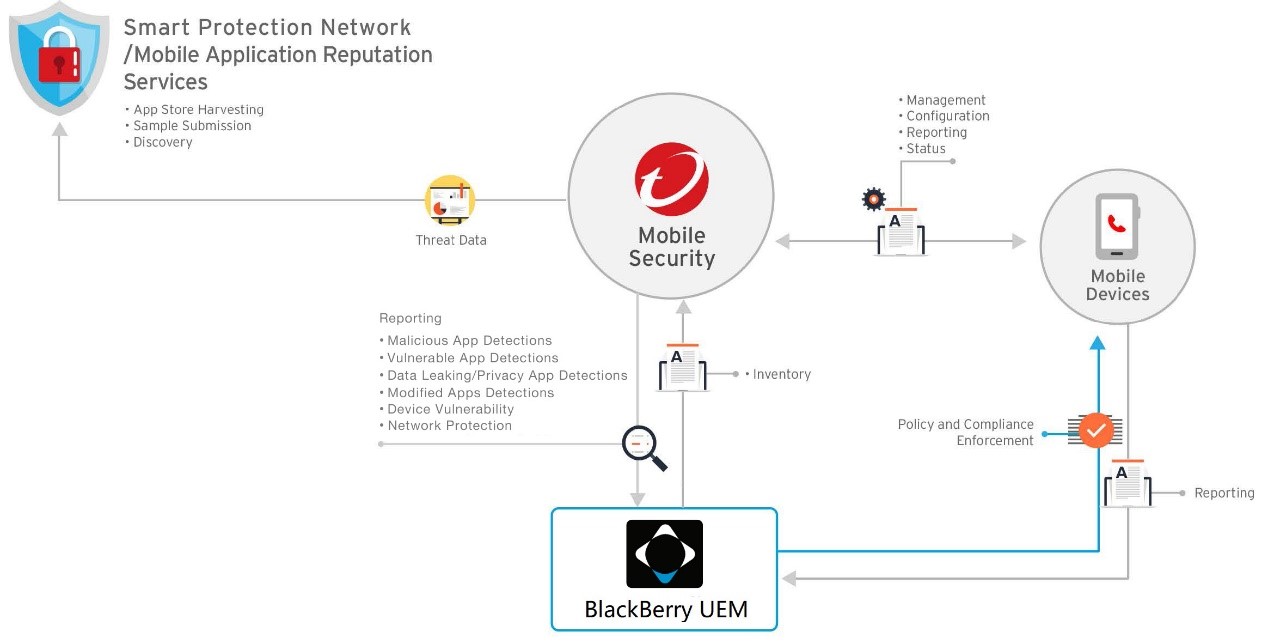 Mobile App Reputation Services (MARS)

Mobile App Reputation is a cloud-based technology that automatically identifies mobile threats based on app behavior, crawls and collects huge number of Android apps from various Android markets, identifies existing and brand new mobile malware, and identifies apps that may abuse privacy or device resources. It is also the world's first automatic mobile app evaluation service.

Smart Protection Network (SPN)

Trend Micro Smart Protection Network delivers proactive global threat intelligence against zero-hour threats to ensure that you are always protected. We use our up-to-the-second threat intelligence immediately.
Basic Deployment
​
Internal
Partner