Summary
The coronavirus disease (COVID-19) is being used as bait in email spam attacks on targets around the globe. As the number of those afflicted continue to surge by thousands, campaigns that use the disease as a lure likewise increase.
This has been observed by many entities, and also seen a significant spike in the detection of the use of the subject in email spam attacks.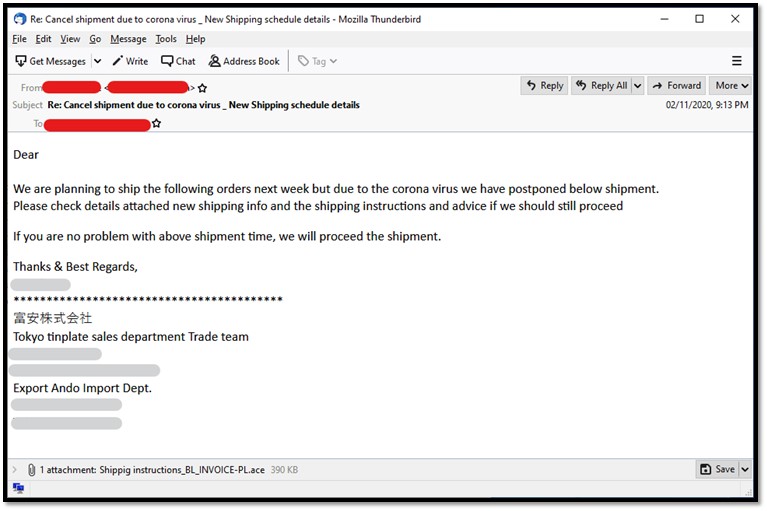 Almost 7,000 unique samples out of 41,000 total Corona Phishing Spam samples reported from Smart Protection Network (SPN) enabled in Trend Micro Messaging products.

Available Solutions
Solution Modules
Solution Available
Pattern Branch
Release Date
Detection/Policy/Rules
Email Protection
Yes
AS Pattern 5268
3-Mar-20
Spam
URL Protection
Yes
In the Cloud
Malware Accomplice
File detection (VSAPI/Smart Scan) and Advanced Threat Scan Engine (ATSE)
Yes
15.699.00
21-Feb-20
Backdoor.Win32.REMCOS.USMANEAGFE
15.721.00
3-Mar-20
Trojan.X97M.CVE201711882.THCOCBO
15.691.00
17-Feb-20
TrojanSpy.Win32.FAREIT.SMTHC.hp
15.695.00
19-Feb-20
TrojanSpy.Win32.FAREIT.UHBAZCLIZ
15.721.00
3-Mar-20
Trojan.MSIL.AGENTTESLA.THCOCBO
Predictive Learning (TrendX)
Yes
In the Cloud
Troj.Win32.TRX.XXPE50FFF034
Downloader.VBA.TRX.XXVBAF01FF006
Details
Public
Internal
Partner