Summary
Apex One has an Assessment Mode that allows you to evaluate items that Trend Micro detects as spyware/grayware and then configure the appropriate action based on your evaluation. For example, detected spyware/grayware that you do not consider a security risk can be added to the spyware/grayware approved list.
Details
Public
When in Assessment Mode, all clients managed by the server will log spyware/grayware detected during Manual Scan, Scheduled Scan, Real-time Scan, and Scan Now but will not clean spyware/grayware components. Cleaning terminates processes or deletes registries, files, cookies, and shortcuts.
In the Anti-spyware Feature dialog box, you can choose whether to enable Assessment Mode and then click Next to continue with the program installation.
Configure Assessment Mode to take effect only for a certain period of time by specifying the number of weeks as shown in the following screen.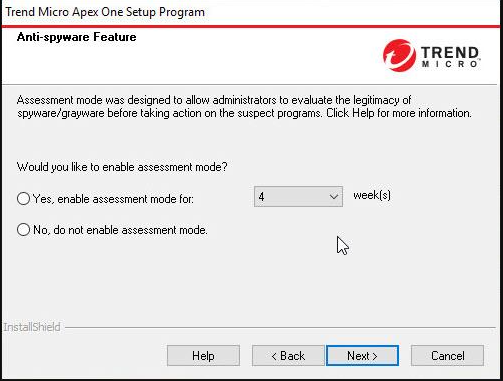 This screen displays only if you activate the Web Reputation and Anti-spyware service during the installation phase of your Officescan or Apex One On-Premise setup.
After the installation, you can change Assessment Mode settings from the web console through Networked Computers > Global Client Settings > Spyware/Grayware Settings.
Internal
Partner