Summary
TXOne EdgeFire 1.2 has been released and can be downloaded from Trend Micro's Download Center.
Product Overview
TXOne EdgeFire, the Next Generation Firewall enables network segmentation and segregation to divide the network into different zones of control, even down to the cell level. Featuring network access control and network attack prevention for critical assets the TXOne EdgeFire is designed for in depth cyber defense to streamline OT daily operations.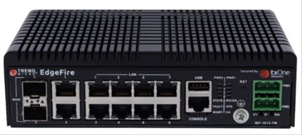 Details
Public
What's New
TXOne EdgeFire 1.2 has the following new features and enhancements:
Feature Type
Feature List
Firmware version 1.2
System

Dashboard Widget: Bandwidth Utilization / Packet Transmission Status

Network

Port Mapping (Enhancement)
MGMT (New Feature)
HA (New Feature)
Port Mirror (New Feature)
Operation Mode (Enhancement)

Added Independent MGMT Port (for WAN Port2), HA Port (for Port 7) and Mirror Port (for Port 8) in Port Mapping Page.
Added Independent MGMT Setting (for WAN Port2)
Added HA Feature (Support AS Mode)
Added Port Mirror Feature (Support Gateway Mode and Bridge Mode)
Added LLDP Feature

Network

IP Object Profiles (Enhancement)
Service Object Profiles (Enhancement)
Protocol Filter Profiles (New Feature and Enhancement)
IPS Profiles (Enhancement)

Device Object List / Master Object List IP/Service/Protocol Filter/IPS/File Filter Object Profiles
New IT/OT Protocol Supported (Up to 43 Protocols)
Protocol Filter Update by Signature
Granular Control – SMB in Protocol Filter Profiles
MITRE ID (TID) in IPS Profiles
Signature ID can be redirected to TXOne Portal.
New Command Code in MELSOFT, New Command Code in MELSOFT, New Added 51 Device Code in MELSOFT

File Filter Profile (New Feature)

Added File Filter Profiles

Security

Policy Rule Auto Learning (New Feature)

Policy Rule Auto Learning (ICS Foresight Strike)

Policy Enforcement (New Feature)

Status Setting can sync with ODC when EdgeFire is registered to ODC
Device Rule List and Master Rule List
Basic Filter + Advance Filter in PE Rule Settings
Search Bar in Policy Enforcement Settings

Suspicious Objects (New Feature)

Added Suspicious Object Feature
3rd party Suspicious Object Source Supported

Pattern

Pattern Update (Enhancement)

Meta Info download in IPS Rule
Release info download

Application

USB Application (Enhancement)

USB Zero Configuration Enhancement (Config. Backup/Restore, Firmware Upgrade)
New USB Thumb Drive Support (2 mode models: Innodisk and Apacer)

Application

Packet Capture (New Feature)

Packet Capture by IPS Rule & PCAP Download
Added Viewer Access Permission to download PCAP file

Log Page

File Filter Log (Enhancement)
Suspicious Object Log (New Feature)

Cyber Security Logs/Policy Enforcement Logs/Protocol Filter Logs/File Filter Log

Administration
Administration

System Management (Enhancement)

Ping Management Interface

Others

CLI command (New Feature)

Others

Remote Connection from ODC-VA (Enhancement)

Supports the capability of connecting back to EdgeFire Web Console
Recommendations
Trend Micro recommends users to upgrade EdgeFire firmware to version 1.2.
For support assistance, contact Trend Micro Technical Support.
Internal
Partner