Summary
When the SMD task starts, the following message appears:
There are <x> days remaining before the ScanMail maintenance will expire. renew maintenance or obtain a full version Registration Key. See ScanMail help for details.
The SMD interface displays detailed information regarding the Product License as shown below.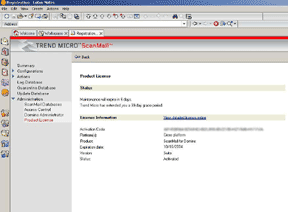 Details
Public
To update the Activation Code:
Acquire a new Activation Code.
Open the ScanMail Configuration Database.
On the left pane, go to Administration > Product License.
On the Product License screen, you will find the current License Profile. Click Create License Profile to enter the new Activation Code.

After saving the new License Profile, you will notice that the Expiration column displays n/a. Click the Refresh button to refresh the screen.

This will now display the correct Expiration date. You can then proceed to delete the old License Profile by highlighting it then clicking Delete License Profile.
Internal
Partner