Summary
The following error message appears after clicking Manual Update on the SMID console.
Field: 'OS': Entry not found in index or view's index not built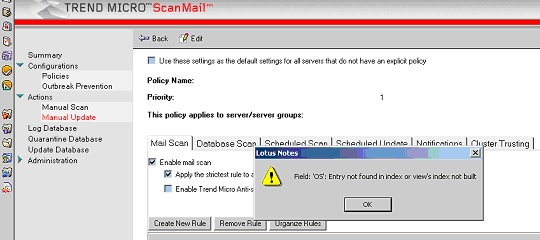 Details
Public
To resolve the issue:
From a Notes client, click Databases > Workspace.
Go to the tab where the SMID database shortcuts are located.
Delete the following SMID database icon shortcuts:

ScanMail Configuration Database (SMConf)
ScanMail Update Database (SMEncy)
ScanMail Quarantine Database (SMQuar) and other SMID databases

Add the database icons again.

On the Workspace, right-click and select Open Database.
Select your SMID server from the list.
Go to the SMID folder to show the list of all SMID databases.
Select an SMID database and click Open to create an icon.
Do the same procedures for the other SMID databases.

Open the ScanMail Configuration Database.
Go to Actions > Manual Update and try to perform an update.
Internal
Partner