Summary
The following error message appears when logging in to the TMCM console:
For TMCM 5.5 and below:

Please type your username and password to access the product console.
Cannot logon. Database operation is unsuccessful. Please verify database service is started and try again.

For TMCM 6.0:

Unsuccessful database operation. Please check the database status and try again.
Details
Public
To resolve this issue, change the Control Manager (TMCM) database configuration settings
To resolve this issue:
Make sure that the following TMCM and SQL services are running:

Trend Micro Common CGI
Trend Micro Control Manager
Trend Micro Management Infrastructure
SQL Server
SQL Server VSS Writer

In SQL Authentication, check if the account information has been modified (e.g username or password being used by TMCM). You can also use the ODBC settings to verify the TMCM connection to the SQL server.
If the account has been modified, use the DBconfig tool to reflect the changes in the TMCM settings.
Java limits the following characters when used as password during installation, or for existing SQL servers.
> (greater than)
< (less than)
" (quotation)
; (semi-colon)
You will not be able to login after installing TMCM if you use one of the characters above as SQL administrator account password. TMCM is unable to properly pull the data from the SQL server because the characters used are not accepted.
Running the command "'dbconfig -DBName="db_controlmanager" -DBAccount="tmcm" -DBPassword="<testpw"" - mode="SQL" will result in the following error message:
Invalid authorization specification, please enter correct database account and password.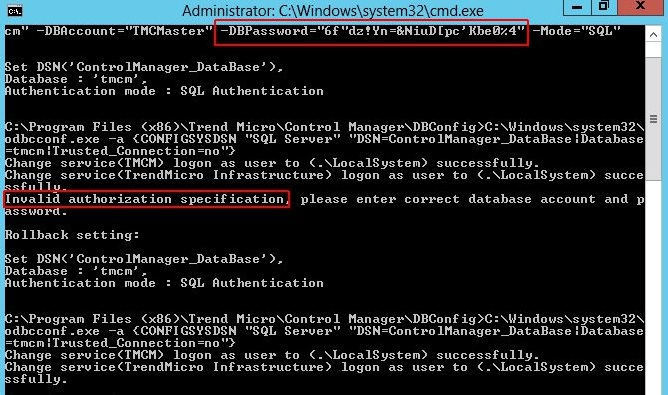 To resolve this, it is recommended to change your password and avoid using passwords with the blocked characters when installing TMCM 6.0 or for existing SQL servers.
Internal
Partner