NOTE: You are viewing an archived article because the product(s) tagged is no longer supported or the information mentioned is already outdated.
Summary
The Messaging Security Agent (MSA) uses Microsoft Data Access Components (MDAC) to create and configure database. If the MSA installer fails to query the ActiveX Data Objects (ADO) Database (DB) Component Object Model (COM) on the target machine, it will fail to create the ActiveXObject("ADODB.Connection") object.
As a result, you cannot install the MSA. Instead, you get the following error message: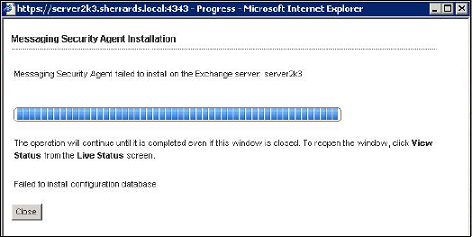 Messaging Security Agent failed to install on the Exchange server server2k3. The operation will continue until it is completed even if this window is closed. To reopen the window, click View Status from the Live Status screen."
There are also some instances when you get the error message: "Fatal error during installation.".
Kindly log in using your MySupport account
to view the content of this archived article.