Summary
This article details the steps in initiating a scan engine update using the OfficeScan web console.
Details
Public
To perform a manual update using the OfficeScan web console:
Log on to the OfficeScan management console
Go to Updates > Server > Manual Update. The Manual Update screen appears and displays a list of the update components, including the version number and the last time they were updated.
Under Components to Update, expand the Antivirus section, select the following scan engines:

Virus Scan Engine (32-bit)
Virus Scan Engine (64-bit)

Click the Update button to start the update.
The OfficeScan server will contact the Trend Micro ActiveUpdate server or the other update sources and will check if the Scan Enginee needs to be updated. Once verified, OfficeScan will start downloading.
To push new engines to OfficeScan agents, go to Updates > Agents > Manual Update and click Initiate Update.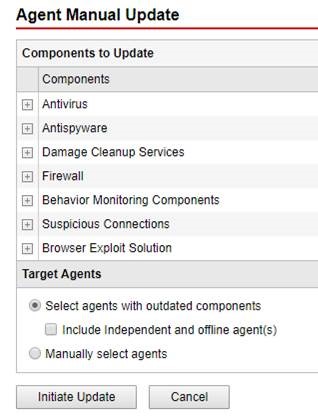 Internal
Partner