Summary
Installing OfficeScan client to Windows machines were successful except on computers running on 64-bit Operating System. All OfficeScan client installation methods failed. There were instances that the the installation will finish but the "1/4E" error appears.
All the OfficeScan client services appear in the services console but they are stopped. When you try to restart them, the following error message appears:
"Windows could not start the OfficeScanNT RealTime Scan service on Local Computer. Error 193: 0xc1"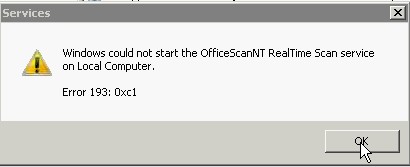 Details
Public
This issue occurs when there are corrupted files in the OfficeScan client directory inside the OfficeScan server. There are two options to resolve this issue:
Option I: Install the latest Service Pack and Patches to the OfficeScan server so that the client install files are replaced with new ones.
Option II: Obtain a copy of the client install files from a working OfficeScan server. Follow the procedure:

Make sure that the source server and your server are on the same build and version.
Log on to the problematic server.
Go to the ..\PCCSRV\PCCNT\Win64 directory and then create a back up of all the files.
Copy the files in the ..\PCCSRV\PCCNT\Win64 directory from the other OfficeScan server.
Paste the files to the Win64 folder of the problematic server to replace all the files.
Restart the OfficeScan Master service.
Deploy the OfficeScan client component to the client machines.
Internal
Partner