Summary
You see a certificate error when opening the Deep Security Manager (DSM) console on a browser.
There is a problem with this website's security certificate.
The security certificate presented by this website was not issued by a trusted certificate authority.
Security certificate problems may indicate an attempt to fool you or intercept any data you send to the server.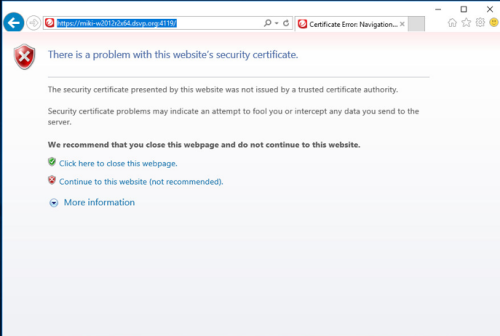 Details
Public
To resolve the issue, install the certificate:
Open the Deep Security Manager console using a browser.
When the message appears, click Continue to this website (not recommended). The login page will appear.
Click the Certificate Error button beside the address bar, and then click View certificates on the Untrusted Certificate window.

Go to the Certification Path tab.
Click Place all certificates in the following store and select the Trusted Root Certification Authorities.

Click Next and complete the installation.
Close the browser and re-connect to the Deep Security Manager console to see the new SSL certificate signed by your CA. The certificate error warning should no longer appear.
Internal
Partner