Summary
You get the following error message when configuring Messaging Security Agent (MSA) on the Security Settings page of the Worry-Free Business Security (WFBS) console: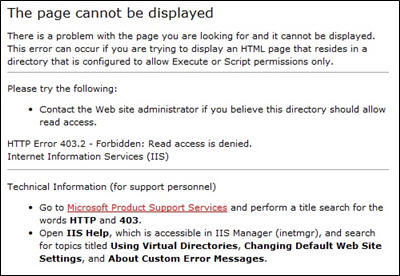 Also, the Internet Information Services (IIS) logs for SMEX Web Site shows the following:
Mozilla/4.0+ (compatible;+MSIE+8.0;+Windows+NT+6.1;+Trident/4.0;+SLCC2;+.NET+CLR+2.0.50727;  +.NET+CLR+3.5.30729;+.NET+CLR+3.0.30729;+Media+Center+PC+6.0;+InfoPath.2) 403 2 5  
Details
Public
This solution applies to Worry-Free Business Security Advanced only.
Open IIS.
Expand Web Sites.
Click SMEX Web Site > Action > Properties.
Click on the Home Directory tab.
Under the Local path section, tick the Read checkbox.
Under Application Settings configure the settings to have the following entries:

Application name: SMEX Web Site
Execute Permissions: None
Application Pool: DefaultAppPool

Click Apply.
Click OK.
Stop and start the SMEX Web Site.
On the WFBS console, refresh the Security Settings page and configure.
Internal
Partner