Summary
The following error appears in the TMCM/Apex Central management console:
HTTP Error 500.19 - Internal Server Error
The requested page cannot be accessed because the related configuration data for this page is invalid.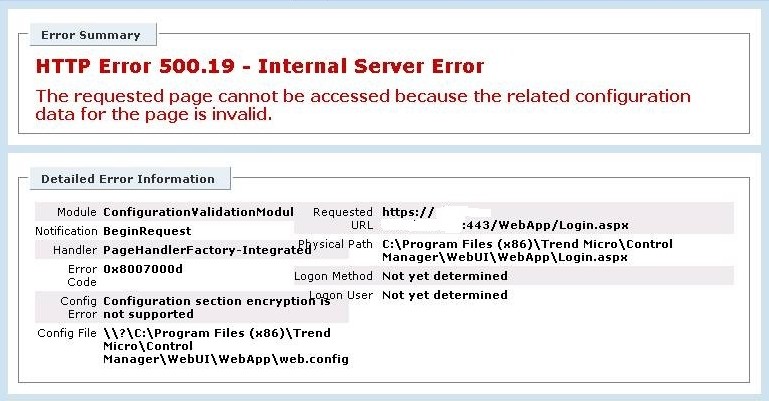 The issue still exists even after following these troubleshooting steps:
Restart TMCM/Apex Central Services.
Reboot the TMCM/Apex Central server.
Open the Internet Information Services (IIS) console and change the Application Pool from defaultAppPool to TMCMApplicationPool.
After further investigation, this issue occurs when the TMCM/Apex Central and Microsoft Windows Server Update Services (WSUS) programs co-exist in the same server computer.
Details
Public
To resolve this issue:
Open the Command Prompt.
Change the directory to "%windir%\system32\inetsrv\" and type the following:

appcmd.exe set config -section:system.webServer/httpCompression /-[name='xpress']

Access the TMCM/Apex Central management console.
The TMCM/Apex Central management console should now work without issue.
Internal
Partner