Summary
The WFBS Security Agent (SA) failed to install or upgrade. You got the following error message instead:
Installation Unsuccessful. The installer could not remove previous version components
Search the Trend Micro Support site for "Error code 302".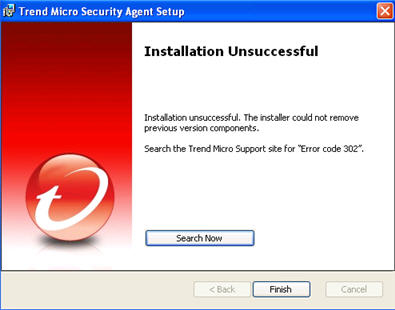 The issue occurs because the installer was unable to remove some components of the previous SA.
Details
Public
To resolve the issue:
Manually remove the old Security Agent using the SA Uninstall Tool.  Contact Trend Micro Technical Support for assistance is using the Uninstall Tool.
Reinstall the Security Agent. For the procedure, refer to this KB article: Different Security Agent installation methods in WFBS.

 

You can go to the C:\Windows\Temp\WFBS_Debug folder to check the installation logs and identify components that cannot be removed.
Internal
Partner