Summary
The Security Agent (SA) failed to install and the following error message appears:
Installation Unsuccessful. The installer could not enable certain features.
Search the Trend Micro Support site for Error code 343,0xe01500c.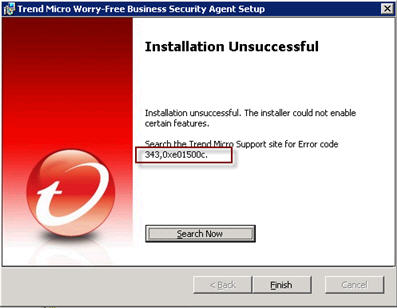 The issue occurs when the required drivers could not be installed because the Microsoft Digital Signature could not be verified correctly. The digital signature of the related files may be missing or corrupted.  
You can find the following lines in the %WINDOWS%\temp\WFBS_debug\AMSP_DebugLog.log file:
[INFO],[Plugin System Adapter], 280458996617640, <2356:4392>, Initialize Aegis 'TmSysEvt.dll', return code=e0030002,[.\plugAdapterSystem.cpp(164)]
[INFO],[Plugin System Adapter], 280458996668100, <2356:4392>, Initialize Aegis 'TmSysEvt.dll' helper failed, return code=e0030002,[.\plugAdapterSystem.cpp(169)]
-----------------
[WriteErrCodeToIni]Write product error code [343] - .\inst_wsc_ErrMsg.cpp:222 - inst_wsc_ErrMsg.cpp(222)
Details
Public
To resolve the digital signature issue, do the following:
If the issue still occurs:
Internal
Partner