Summary
When you try to install the OfficeScan server or the Security Server of WFBS, "Error 0x80040707" appears.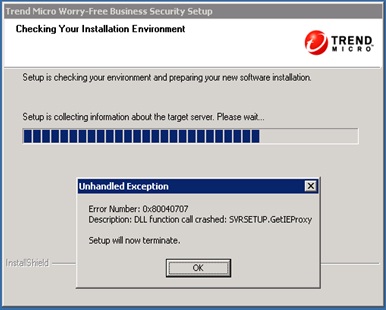 The error occurs when you run an installation or upgrade in a Microsoft server platform.
Details
Public
To resolve the issue:
Go to the Control Panel and verify if Trend Micro Plug-in Manager is installed. 
If you are using WFBS Standard version, uninstall the Trend Micro Plug-in Manager. 
Go to the location of the server installation file.
Right-click the setup file and select Run as Administrator.
When prompted if you want to install or upgrade, click Yes.

You will now be able to install the product without any error.
If the issue persists, send the Ofcmas.log file of the %WINDIR% directory to Trend Micro Technical Support.
Internal
Partner