Summary
Resolve the issue where the SMEX real-time monitor on an Exchange 2010 Hub Transport Server displays zero scanned messages.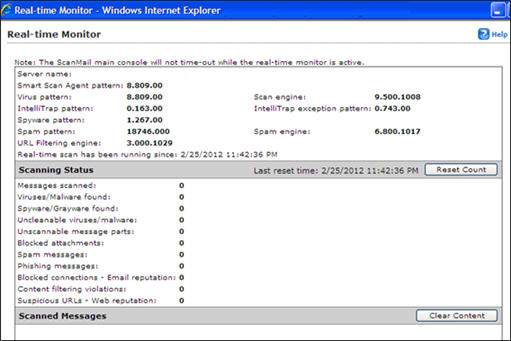 Details
Public
To resolve the issue:
Verify the status of the ScanMail Routing Agent and SMTP Receive Agents.
Open the Exchange Management Shell.
Run the "Get-TransportAgent" command.

Either the ScanMail Routing Agent or the SMTP Receive Agents will display as set to "False", which means that the said component is not enabled and is therefore causing SMEX's inability to scan the messages.

On the Exchange Management Shell, enable the ScanMail Routing Agent using any of these commands:

set-transportagent
enable-transportagent –identity "ScanMail Routing Agent"

Observe if the ScanMail realtime monitor is now able to process emails afterwards.

If the issue still occurs:

Restart Microsoft Exchange Services.
Check if Network Firewall Settings are allowing SMTP mail routing.
Confirmed with your ISP if mails are being delivered to customer domain.

If the issue still occurs, contact Trend Micro Technical Support.
For more information on Exchange Management Shell, refer to this Microsoft article: Enable-TransportAgent. For more details on Exchange Management Shell commands, refer to this article: Exchange Management Shell commands for beginners.
Internal
Partner