Summary
Know how to resolve the following error message that comes up when you are upgrading the OfficeScan server from 10.0 to 10.6, 11.0, or XG.
Installation Unsuccessful.
Unable to install the Security Server. Setup did not find any local drive with free space over XXXXX MB available. Some of your drives may have enough space. However, you do not have sufficient write permission to access the drive. Try to free up space on local drive or assign yourself write permission to access the drive.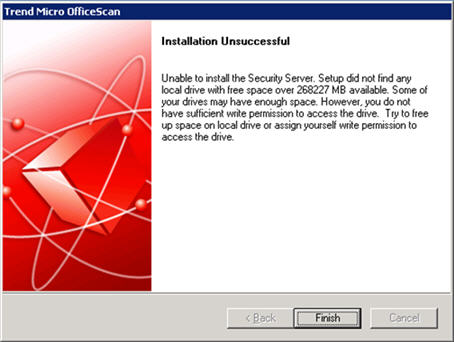 Click image to enlarge
The issue occurs when the PCCSRV folder accumulates a large amount of space that the installation setup tries to back up, but the local hard disk space is not enough.
Details
Public
To resolve the error:
Go to ../OfficeScan/PCCSRV folder.

Check the following locations:

Logs folder - If the OfficeScan server was not set up to clean older logs files, this folder may accumulate most of the chunk of space occupied. Delete older log files and retain recent logs (say at least for 7-14 days).
WSS/patterns folder - This folder may have accumulated smart pattern files. Avoid this accumulation by minimizing the kept patterns and deleting the older purged pattern files. Follow this procedure: Limiting the Smart Scan pattern files in the OfficeScan server.
Apache2/logs folder - If the OfficeScan server is using Apache, access.log and error.log may accumulate big space. To prevent this issue from happening again, follow the procedure in tihs article: Log files being generated Apache is filling up your hard drive.

You may delete these log/pattern files to free up some space in the local hard drive so you can install the new OfficeScan server successfully.
Internal
Partner