Summary
The error message "Sorry. There was an error encountered while loading this video" appears when watching videos on http://vimeo.com.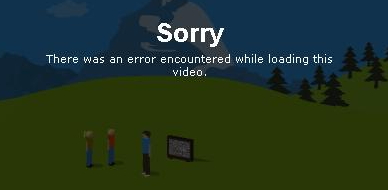 Click image to enlarge.
Details
Public
This happens when the Scan before delivering option is in use, because this method downloads the whole video file before sending any data to the client. Because the download takes a long time, the client session times out.
To resolve the issue, enable the Deferred scanning option:
Log in to the IWSVA management console.
Click HTTP > HTTP Malware Scan > Policies > Virus Scan Global Policy > Virus Scan Rule tab.
Under the Large File Handling section, select the Deferred scanning option. Do this for all policies dealing with virus scanning.
Click Save.
Click Deploy Policies after all appropriate policies have been adjusted.
Internal
Partner