Summary
When updating DSVA 8.0 SP1, you get the following error:
There was a failure performing a component update. Check the Agent/Appliance Events for the cause.
Agent/Appliance Event(s):
Time: July 30, 2012 08:23:24
Level: Error
Event ID: 9102
Event: Component Update Failure
Description: A failure occurred during a Component Update.
Error Code: -1073676282
Error Message: IAU_STATUS_NETWORK_HTTPS_FAILURE
https://SRV042.Wonen.lan:4122/ IAU_STATUS_FILE_EXISTS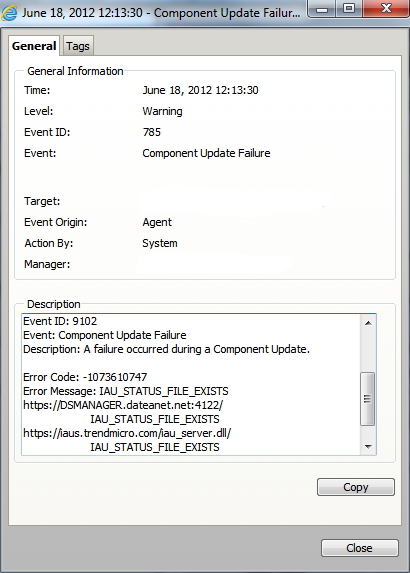 Details
Public
This error happens when the component is already up-to-date, but the product.xml file of the DSVA is not.
It occurs because the iAU no longer deletes everything in the destination directory, such as rm/var/opt/ds_agent/lib/resource/c3t536871936/129700/*, if the file already exists. The past versions of iAU used to delete these before retrying the update.
To resolve the issue, download the DSVA SP1 patch. This will restore the previous behavior of the iAU so the update can be completed.
Internal
Partner