Summary
You get one of the following error messages when installing the Security Server or Security Agent:
"WFBS operation may require up to 1970 MB additional disk space. Click OK to continue; you will need to allocate disk space after installation. Click Cancel to select another destination folder."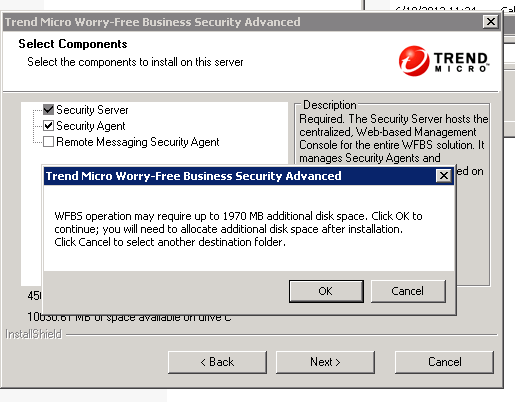 "Directory may not exist or disk space is not enough!"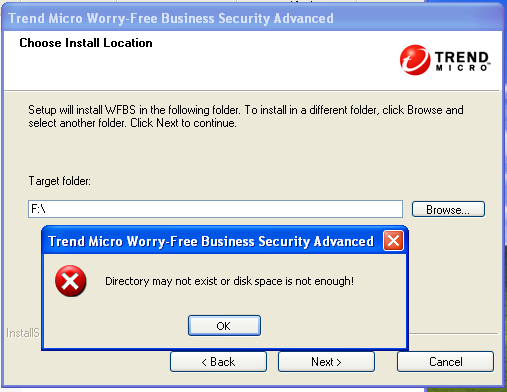 "Not Enough Disk SpaceInstallation unsuccessful. The agent requires at least 1000MB of free disk space. Free up some space and retry."

Details
Public
The error messages appear because your system does not meet the required available disk space.
To resolve this issue, you need to increase the hard disk space to install the Security Server and Security Agent. The table below shows the disk space requirements for the Security Server and Security Agent:
 
Available Disk Space
Security Server

11GB total

4.1GB for the Security Server program files
6.9GB for Security Server operations

 

11GB is exclusively for the Security Server. Additional disk space is
necessary because the Security Agent will also be installed on the same
computer as the Security Server (installing the Messaging Security Agent
is optional).

Security Agent
Scan Method
Disk Space
Smart Scan

500MB total for Security Agents

300MB for the Security Agent program files
200MB for Security Agent operations

1GB total for Update Agents

300MB for the Update Agent program files
700MB for Update Agent operations

Conventional Scan

1GB total for Security Agents

400MB for the Security Agent program files
600MB for Security Agent operations

1.5GB total for Update Agents

400MB for the Update Agent program files
1.1GB for Update Agent operations
For more information about the system requirements for WFBS 8.0 and WFBS 9.0, refer to these documents:
Internal
Partner