Summary
The information server is unable to deploy new virus pattern files to normal servers. Aside from the return code "2" found in the application event log of the information server, all other components are "N/A" as shown in the image below: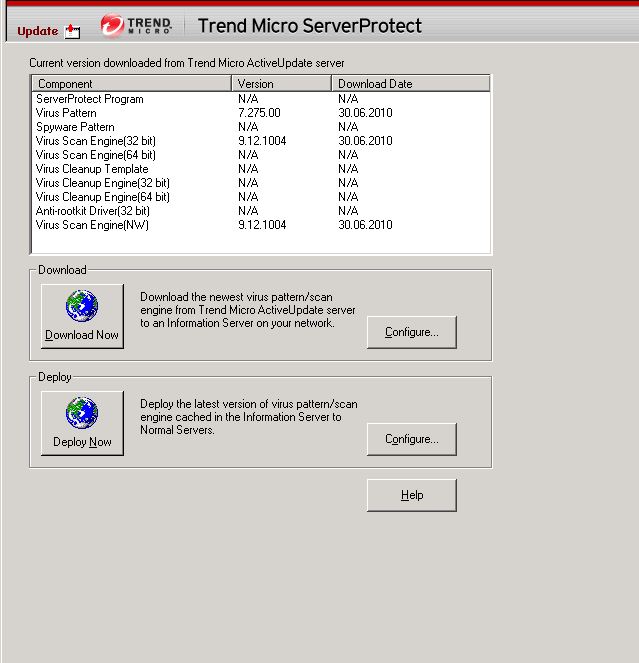 Click image to enlarge.
This happens when the files in ...\Trend\SProtect\SpntShare\ServerProtect becomes corrupted as a result of either a scheduled system backup on the information server or an unfinished scheduled virus pattern ActiveUpdate download.
To prevent this from happening, make sure NOT to schedule system backup with the ServerProtect's ActiveUdpate download schedule.
Details
Public
Do the following:
Download AUSPNT50.zip.
After downloading, make sure that the file size is 43,914 bytes (42 to 43 KB).
Copy the file under ...\Trend\SProtect\SpntShare\ServerProtect\spnt580\
Perform another deployment.
If the issue persists, do the following:
Stop all ServerProtect services on the information server.
Delete the following folders in ..\Trend\SProtect\:

AC_Up-Rb.tmp
AU_Backup
AU_Data

Backup and recreate the following sub-folders in the "..\Trend\SProtect\" directory:
Restart the ServerProtect services.
Log on to the ServerProtect admin console and do an update to download all pattern files needed for deployment.
When the download is completed, verify if the pattern deployment to normal servers are successful.
Internal
Partner