Summary
Learn how pop-up notifications of WFBS works in Windows 8 and Windows Server 2012.
Details
Public
In Windows 8 and 2012, the entire Desktop works like an application. In this case, visibility of WFBS pop-ups becomes limited.
To make sure that you see important notifications, WFBS uses toast notifications in Windows 8. 
A toast notification is a rectangular message box that appears on the upper-right corner of Windows 8 when specific events are triggered. This message lingers for 7 seconds. When you click a toast notification, the Desktop will open. It serves as prompt when actions are required from the user as shown below: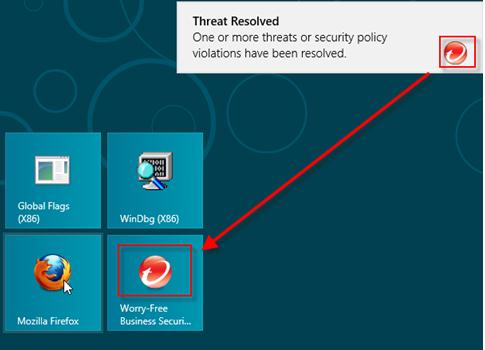 WFBS sends toast notifications through the PccNTMon process when it wants to do the following:
Client wants to pop up a threat dialog on desktop to show detections:

Virus detection
Spyware detection
Web Reputation detection
Behavior Monitoring detection
Device Access Control detection
Firewall detection

Client needs a reboot to finish the installation/upgrade
Internal
Partner