Summary
When you install MSA in Exchange 2007, the following error message shows: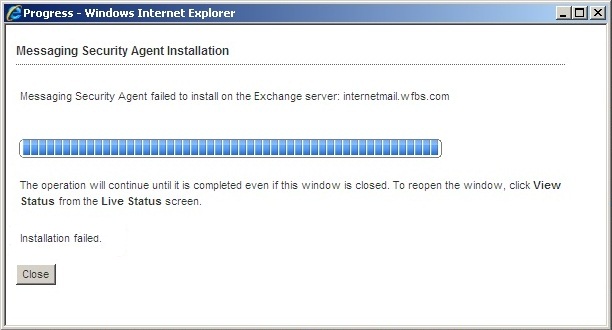 Click image to enlarge.
Messaging Security Agent failed to install on the Exchange server: internetmail.wfbs.com
The operation will continue until it is completed even if this window is closed. To reopen the window, click View Status from the Live Status screen.
Installation failed.
Details
Public
This happens because your machine does not meet the system requirements.
To resolve the issue, check the following logs under ..\Windows\Temp and see if you have the same snippet on your end:
Installlog.log shows the following:
2012/11/09 10:55:56 Status:32bit Exchange 2007 Server is not supported
2012/11/09 10:55:56 Error: The target machine failed to meet the system requirement to install
Messaging Security Agent.
Review the following system configurations, make neccessary changes and try again.
2012/11/09 10:55:56 Installation failed.
======================
Setup.log shows the following:
======================
2012/10/25 09:21:20 GMT+7:00 [05500:04676] [ CExchangePackage.cpp( 519)] DEBUG
The Exchange service pack build key is not found; assume no Exchange service pack is not installed.
======================
If the same error appears, ensure that your machine has at least Service Pack 1 (SP1) or above for Exchange 2007. For more information about the System requirements for MSA Exchange, refer to this article: Worry-Free Business Security v7.0 SP1 System Requirements.
Internal
Partner