Summary
You are prompted to download and install an update to your SafeSync client.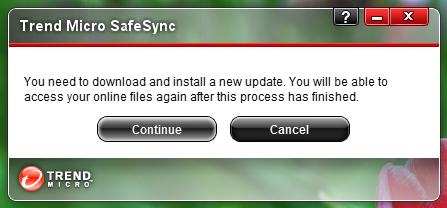 Details
Public
SafeSync for Business will notify users to upgrade their current SafeSync client to 5.1. This is to ensure that the user will be able to take advantage of the new features and improved overall experience.
Before continuing with the update, take note of the following upgrade scenarios:
From 3.x to 5.1, the Team Folders are not auto-paired so you have to pair the folder manually. If you encounter an issue, follow the steps in this KB article: No visible files on the SafeSync folder after upgrading to Trend Micro SafeSync
From 5.0 to 5.1, the Team Folders are auto-paired as long as they are previously synced to the SafeSync folder.
Fresh install 5.1, the Team Folders are not auto paired. Pair the folders manually.
To complete the upgrade from previous versions to SafeSync 5.1, do the following:
Once you get the SafeSync update notification pop-up, click Continue.

SafeSync will then download and install SafeSync client 5.1. Similar steps are available in the following KB article: Downloading and installing the Trend Micro SafeSync for Business client on a Windows computer.
Internal
Partner