Summary
The option I understand the risks and I want to continue browsing is missing from the "Website blocked" notification of WFBS as shown below: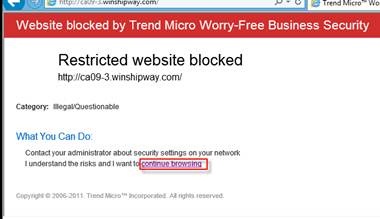 Details
Public
This option should be available when websites are blocked by the Web Reputation Service (WRS) or URL filtering of WFBS.
This happens because the blocked website was not added in the Trusted sites when Internet Explorer (IE) prompts to add the URL in the Trusted sites.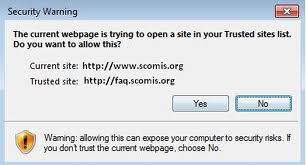 To resolve the issue, add the blocked website to the Trusted sites of Internet Explorer.
Open Internet Explorer.
Go to Tools > Internet Options.
Click Security.
Under Select a zone to view or change security setting, select Trusted sites.
Click Sites to add the site you want to allow.
Type the website address you want to allow in the field provided, and then click Add.
Click Close.
Click Apply, and then click OK.
Internal
Partner