Summary
Learn about the features and the things that you can do in the IWSaaS dashboard. 
Details
Public
The IWSaaS dashboard indicates:
Whether the network or IWSaaS is performing normally
The amount of Internet traffic is consistent and within the norm
Whether there is unusual virus activity on the network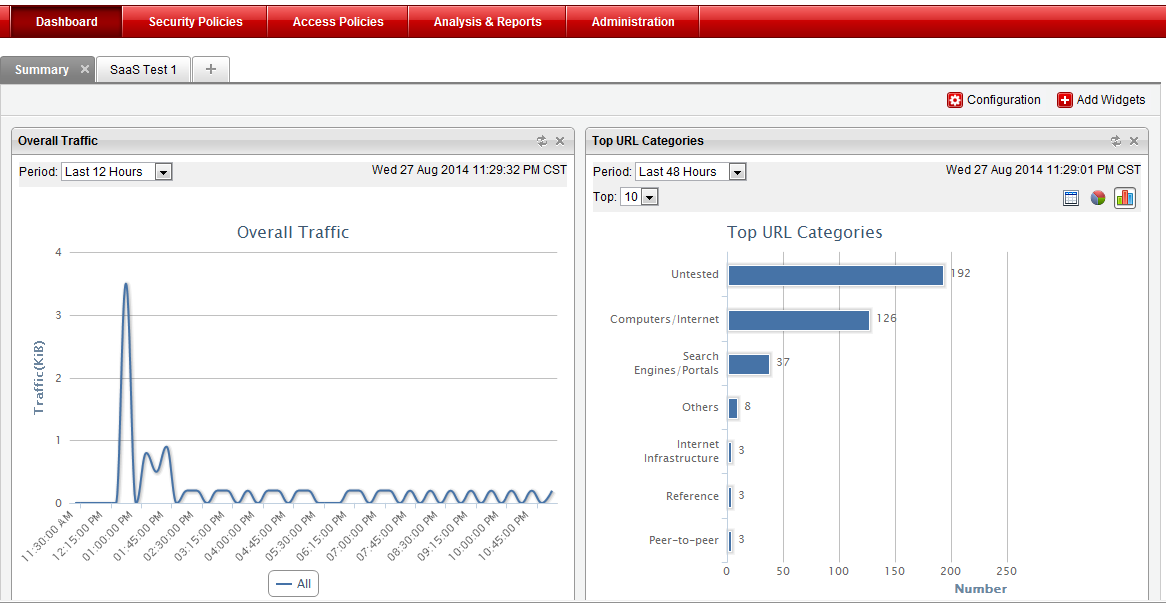 Possible dashboard information
Summary of Transactions – The transactions that have occurred in the last 30 minutes as well as 1, 2, 4, 8, 12, 24 and 48-hour increments. A time line on the Traffic graph shows the selected period of time shown on that monitor. The actual time displayed on the X-axis of the graph is based on the time zone of your organization that is registered on the Customer Licensing Portal page.

 

You might have users in other time zones and the times shown are relative to your organization's time zone. For example, if you are in the Eastern time zone and you logged in to the dashboard at 9AM EST, traffic for the last hour shows transactions that occurred between 8 AM and 9 AM, even though to someone in London, the transactions occurred between 1-2PM GMT.

Overall Traffic Processed – Total amount of traffic processed without regard to geographic location.
Traffic Processed by Location – Total amount of traffic processed for each location.
Top N Malware – Most common type of malware detected in the specified period.
Top N URL Categories Visited – Most common URL categories processed across all locations.
Top N Applications – Most frequently used application types (web-based, HTTP-based mail applications, client applications (such as Yahoo Messenger), or a web 2.0 site (such as Facebook).
Dashboard summary reports
IWSaaS enables you to select which monitors to display. The dashboard includes support for traffic-status monitors and security monitors.
IWSaaS refreshes monitors every two minutes.
Click the refresh icon in the upper right corner to refresh the monitor data.
To learn more about the dashboard widgets, refer to the following topic: About the Dashboard.
Internal
Partner