Summary
When you try to disable the Auto-Lock feature of an iOS device, you cannot find the Never option to turn it off.
This usually happens when you are presenting using your iOS device where the device automatically locks. Thus, it interrupts your presentation.
Learn how to disable the Auto-Lock setting.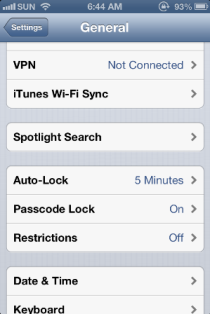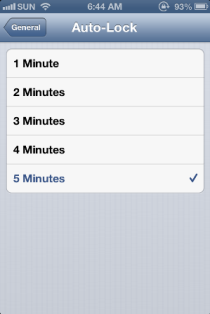 Details
Public
To resolve the issue:
Log on to the OfficeScan web console.
Go to Plug-in Manager, and then click Manage Program for the Mobile Security Plug-in.
Click Devices.
Select the group where the device is located, and then click Policy.

On the the left pane, click Encryption and Password Policy. 

Under the iOS tab, find the Auto-Lock drop-down menu, and then select -- as its value. This enables the Never option on the iOS device. 
Save the changes. Wait for a few seconds until the devices receive the new policy changes.
On the iOS device, go to Settings > General > Auto-Lock. The Never option should now be enabled.

Internal
Partner