Summary
The following error message appears when activating the DSVA: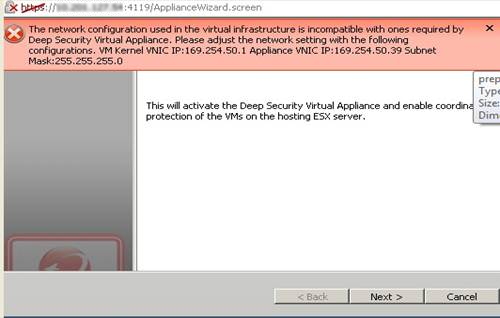 "The network configuration used in the virtual infrastructure is incompatible with ones required by Deep Security Virtual appliance. Please adjust the network settings with the following configuration: VMkernel VNIC IP: 169.254.1.1 Appliance VNIC IP 169.254.1.39 subnet mask 255.255.255.0"
Details
Public
The error message appears because the VM Kernel VNIC IP is not 169.254.1.1.
To resolve the issue, ensure that the network configuration of all ESX hosts and DSVAs is set to the following:
VM Kernel VNIC IP: 169.254.1.1
Appliance VNIC IP: 169.254.1.39
Subnet Mask: 255.255.255.0
To configure:
In the Deep Security Manager (DSM):

On the left pane, right click vCenter and then click Properties.
Go to the Network Configuration tab.
Set the vCenter's Global Network configuration to use the values specified above.

In the vCenter:

Click the ESX host where the DSVA is deployed.
Go to the Configuration tab.
Under Hardware, click Networking.
Under vmservice-vswitch, click Properties.
Highlight vmservice-vmknic-pg, and then click Edit.
Go to the IP Settings tab and then change the IP address to "169.254.1.1".
Click OK and then close Vswitch Properties.
You will now be able to activate the DSVA.
Internal
Partner