Summary
Know the different migration scenarios for TMCM agent and how to migrate and MCP Agents.
Details
Public
The following agent migration scenarios are possible:
Single-server Migration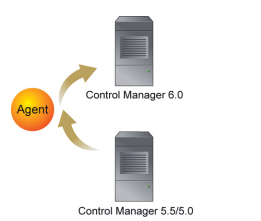 You can use both Rapid and Phased migration in this instance.
Consolidation of Different Servers/Agents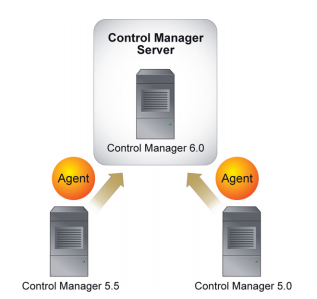 Because of the new TMCM access control features, functions previously handled by separate TMCM servers, to restrict user access to specific segments of the antivirus network, can now be combined in a single TMCM server.
For further information about TMCM 2.5x and MCP Agent Migration Flow, refer to page 4-13 of TMCM6.0 Install Guide.
Use AgentMigrateTool.exe to migrate Windows-based agents originally administered by TMCM 5.0/5.5 servers. When migrating agents, 2.5x agents migrate first, then MCP agents migrate.
If an agent migration is unsuccessful, the following occurs:
The agent continues to be managed by the source server.
Agent logs are on both the source and destination servers.
Migrated logs will not display unless the agents register to the destination server. The destination TMCM server purges migrated logs when purge triggers.
Run AgentMigrateTool.exe directly on the destination server — a TMCM 6.0 server to which you migrate the agents.
To do this:
Using Windows Explorer, open the Control Manager 6.0 root folder. For example:

<root>\Program Files\Trend Micro\Control Manager\

Double-click AgentMigrateTool.exe.
Remember to start the Remote Registry service on the destination TMCM server or agent migration will not be successful.
Click Configure Source Server Settings on the main menu
On the Configurations screen under Source server, type the IP address of the source server hosting the agents that will migrate.
Under System Administrator Account, specify the administrator user name and password used to access the source server, and then click Connect.
On the main window, click Add > or Add All >> to migrate agents from the Source to the Destination list.
Select all or one of the following options:

Retain tree structure: AgentMigrateTool.exe instructs the destination TMCM 6.0 server to retain the original Product Directory structure of the selected managed products
Migrate logs: AgentMigrateTool.exe copies the logs of the selected managed products from the source to the destination server
Enable HTTPS: AgentMigrateTool.exe notifies migrating agents to use HTTPS to register to Control Manager. If you do not select this option, agents use HTTP to register to Control Manager

These options apply to agents listed in the Destination list.

 

Trend Micro recommends enabling the Retain tree structure and Migrate logs options when migrating all agents from the source server.

Click Migrate. AgentMigrateTool.exe migrates the agent(s) listed in the Destination list.
Internal
Partner