Summary
The following error appears during installation:
Although OfficeScan supports automatic uninstallation of F-Secure E-mail Scanning, Setup encountered problems with the uninstaller program. Please remove F-Secure E-Mail Scanning manually before installing Trend Micro OfficeScan client. Setup will now terminate.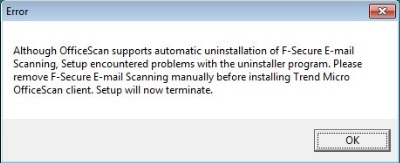 Details
Public
To resolve this issue, install Hotfix Build 5266.1 on the OfficeScan server. Trend Micro recommends installing OfficeScan 10.6 Service Pack 3 (SP3) before installing this hot fix.
To get a copy of the hot fix, contact Trend Micro Technical Support.
Internal
Partner