Summary
This article explains the roles of the NICs in SSFE and how they should be connected.
Details
Public
SSFE requires each server to have two gigabit network interface cards (NICs) during installation. Each of these NIC cards has its own role and purpose.
Roles
After SSFE is installed, the two NICs will be labeled as frontend0 and database0.
frontend0
This role is assigned to the first available NIC in the server
The settings for this NIC (IP, subnet, gateway, DNS server) are configured during installation
After installation, the settings can also be changed from the management console
This serves as the data port for SSFE. This is where communications with other hosts or devices, clients, and users in the network are directed.
database0
This role is assigned to the second NIC in the server
The IP address and subnet for this NIC is automatically assigned during installation

For appliance1: 192.168.200.1
For appliance2: 192.168.200.2

The IP settings for this NIC should NOT be changed
This serves as the database communication port. When SSFE is deployed on a High-Availability deployment, all database communication and replication traffic between the two SSFE servers pass through this NIC.
NIC connections on the SSFE server
frontend0: Should be connected to the production network
database0: Should be connected to a private switch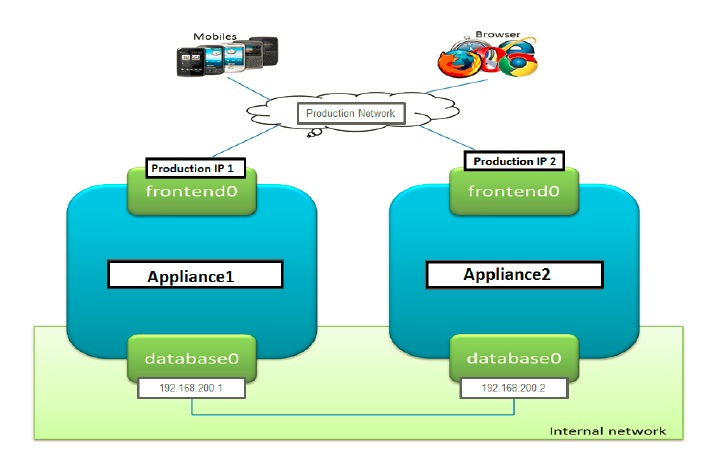 Internal
Partner