Summary
Know about the Advanced Mode feature in Behavior Monitoring that is included in WFBS 9.0 and the advantages of turning on this feature.
Details
Public
In the previous versions of WFBS, there was only one mode for Behavior Monitoring. For WFBS 9.0, customers have the option to choose between Normal Mode (Known Threats) and Advanced Mode (Known and Potential Threats). The Advanced Mode of Behavior Monitoring provides more agressive malware blocking.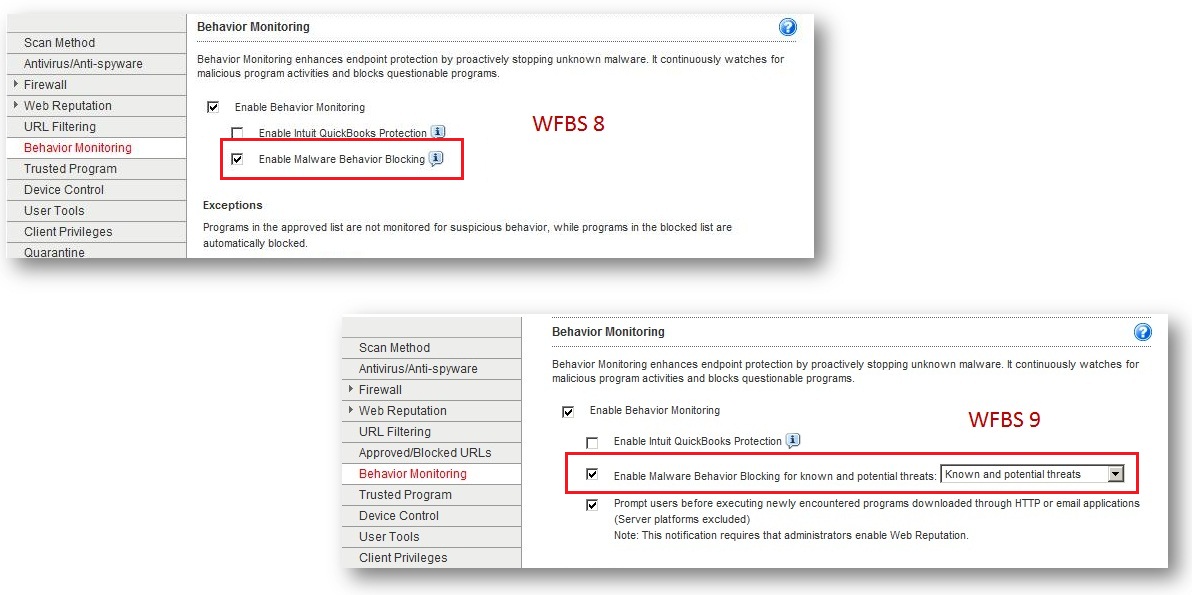 Click image to enlarge.
Note: In order for the Advanced Mode feature to run properly, the AEGIS driver must be 2.97.0.xxx or higher.
By default, Behavior Monitoring is set in Normal Mode. To enable Advanced Mode:
Log in to the WFBS Security Server console.
Go to Security Settings and choose either Server (defaults) or Desktop (defaults).
Click Configure Settings.
On the left pane, click Behavior Monitoring.
On the drop-down menu for Enable Malware Blocking, select Known and Potential Threats.
Click Save. Advanced Mode for Behavior Monitoring is now enabled.
Internal
Partner