Summary
Meerkat is a detection improvement in common clients to prevent 0-day attacks. This feature leverages Behavior Monitoring and Web Reputation, thus both must be enabled for Meerkat Blocking to function properly.
This feature supports Desktop groups only.
Below is a sample pop-up message when Meerkat blocks a program: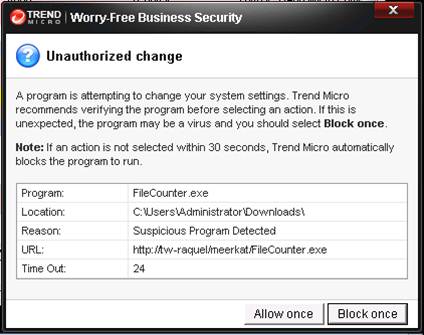 By default, the pop-up message will only appear once.
The program or file will be blocked after 30 seconds if you do not click the Allow once button.
Details
Public
To enable Meerkat Blocking:
Log in to the WFBS Security Server console.
Go to Security Settings > Desktop (defaults) > Configure Settings.
On the left pane, click Web Reputation and make sure it is enabled.
Go back to the left pane and select Behavior Monitoring.
Make sure that the Enable Behavior Monitoring checkbox is ticked. 
Tick the Prompt users before executing newly encountered programs through HTTP or email applications option as well. 

Click image to enlarge.

Click Save.
Internal
Partner