Summary
You receive the "Not enough space for file replication" storage status in SSFE.

Details
Public
The error occurs when SSFE is in High Availability (HA) mode or when it uses two (2) appliances. The error appears because the storage of one of the appliance is already full, while the other appliance's storage still has enough free space. This is because in HA mode, the uploaded files are saved on both appliances (Appliance 1 & 2). If one appliance's disk is full, the replication warning appears.
For example, Appliance 1 has three (3) storage devices:
Appliance 2 has only one (1) storage device: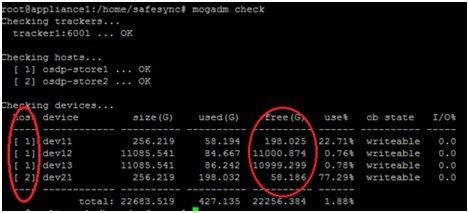 To resolve the issue, you need to adjust the devices. The best MogileFS design is a balanced storage between Appliance 1 and Appliance 2. Each appliance should have the same storage size.
Appliance 1: dev11 (10832) dev12(256)
Appliance 2: dev21 (10833) dev22(256)
Internal
Partner