Summary
When you upload a PKCS7 certificate to the SSFE server, you receive the following error message:

Details
Public
The error appears because SSFE does not support PKCS7 certificates but supports only PKCS12 certificates.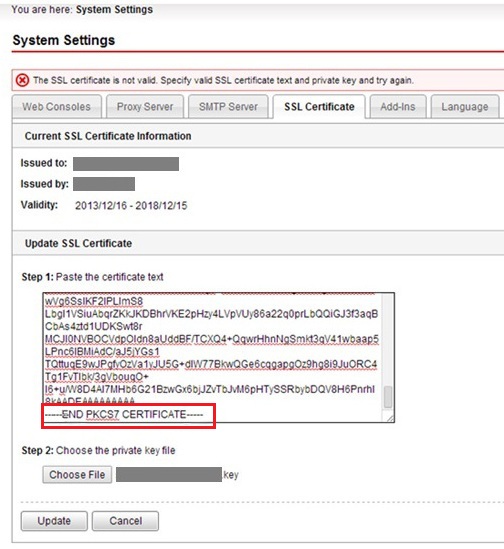 PKCS12 certificates use extensions such as .pfx and .p12.
To resolve the issue:
Get the PKCS12 certificate issued by your Certificate Authority (CA) company.
Convert the PEM file. You can do this in two ways:

Option 1

Upload the .pfx file to the /home/safesync folder in the SSFE server using an SFTP client and FTP client such as WinSCP.
Log in to the SSFE command console using the putty command line.
Under /home/safesync, run the command "openssl pkcs12 -in xxxxxx.pfx -out xxxxxx.pem –nodes".

Option 2

Upload the .pfx file to a SSL converter website and provide a password.

Note: This method is not recommended due to security issues.

Click Choose file to upload the .pfx file.
Under Type of Current Certificate, select PFX/PKCS#12.
Under Type to Convert To, choose Standard PEM.
On the PFX Password field, provide a password.
Click Convert Certificate and then download the PEM file.

Open the PEM file and copy the following sections:

-----BEGIN PRIVATE KEY-----
xxxxxxxxxxxxx……
-----END PRIVATE KEY-----

-----BEGIN CERTIFICATE-----
xxxxxxxxxxxxx……
-----END CERTIFICATE-----

Go to Admin Console > System Settings > SSL Certificate.
Under Step 1, provide the certificate that you copied in Step 3.
Under Step 2, click Choose file and then provide the private key that you copied in Step 3.
Click Update to update the SSL certificate.
Internal
Partner