Summary
When executing the SPS Deployment Kit, you encounter the following error message:
"This program might not have installed correctly"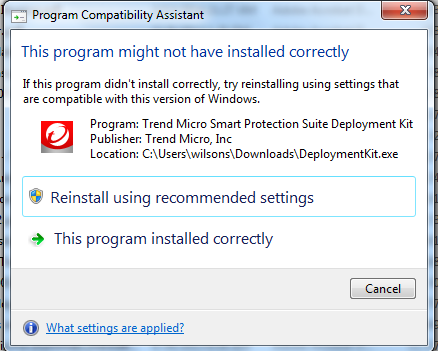 Details
Public
The Program Compatibility Assistant (PCA) is a new feature in Windows VistaR and Windows ServerR 2008 that enables older programs with compatibility issues to work better automatically. It also monitors programs for known issues.
If an issue is detected, PCA notifies the user of the problem. It then offers solutions that will address the issue and applies this solutions before the user runs the program again.
The above-mentioned error appears when the PCA detects failure in Setup Programs.
The workaround for this issue is to go to the Service Manager (service.msc) and stop the PCA service.
To stop the PCA:
Go to Start > Run.
Type "services.msc" and press ENTER.
On the Services pane, scroll down and look for the Program Compatibility Assistant service.
Right-click Properties.
Click Stop to temporarily disable the PCA service.
Internal
Partner