Summary
You want to identify what are the required DNS records and how to create these records properly in SSFE 2.0.
Details
Public
Creating proper DNS records is a critical part of SSFE deployment. If these are not created correctly, users will not be able to access SSFE.
There are four (4) DNS records that are required during SSFE deployment::
<SafeSyncDomain>
www.<SafeSyncDomain>
soap.<SafeSyncDomain>
dav.<SafeSyncDomain>
Where <SafeSyncDomain> is the Administration Web UI setting in the Administration > System Settings > Web Consoles > Domain section. The administrator will choose what Domain Name will be used by SSFE.
Below is an example: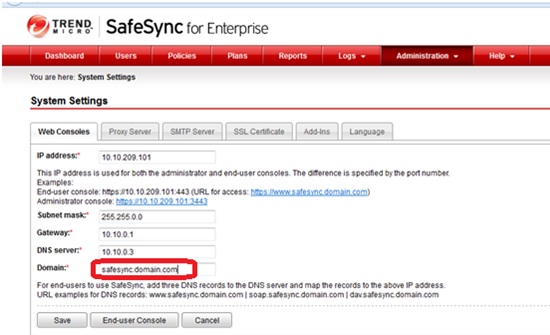 In this case, the exact DNS records created are:
safesync.domain.com
www.safesync.domain.com
soap.safesync.domain.com
dav.safesync.domain.com
Refer to the DNS Server manual on how to create DNS records.
The DNS records can be created before or after installing the SSFE servers. If the DNS records are not properly created, the error message "The connection has timed out" will appear when you log in to the End User Portal.
Internal
Partner