Summary
This article provides a step-by-step guide how to open and read an encrypted email for new users, existing users, and users of mobile devices.
Details
Public
For the first-time user of Zero Download Reader, do the following:
Double-click the file attachment named Encrypted_Message.htm.

On the window that appears, click Open my email. It will redirect you to Zero Download Reader for registration.

Fill-out the registration details and click the checkbox I have read and agree to the Licence and Terms, then click Continue.

Once you receive the confirmation email, click the link to complete the registration.

Go back to the encrypted email and double-click the Encrypted_Message.htm attachment.
View the encrypted message.
Your encrypted email is readable in your PC using Outlook or web browsers. However, you cannot view the message using mobile devices like iOS or Android. Clicking Open Message does not work.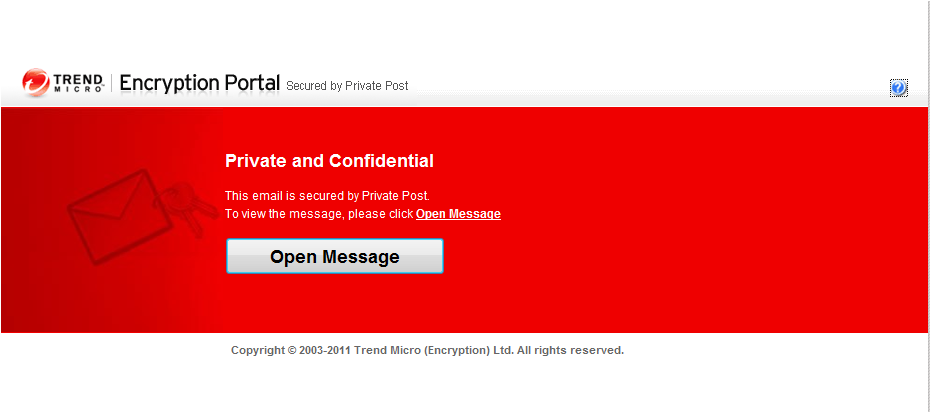 Using the Zero Download Reader, you can read private messages on any computer, regardless of its operating system or whether Encryption for Email is installed.
For mobile device users, do the following to read your encrypted mail:
Forward the encrypted email you received to m@zd.trendmicro.com to get an email notification containing the procedure on how to read your message on your device.

Select Forward upon receiving an encrypted message.

When prompted to add the attachments, click Include.

Send the email to m@zd.trendmicro.com.

Check the email you should receive from accounts-noreply@trendmicro.com. This email includes a decryption link.

Choose Mobile or Computer mode for the sign-in process.
The default view mode is Mobile.
You may change the language of the interface by clicking the symbol on the upper-right corner.

Select your desired language on the following screen that will appear:

View the encrypted message.
​
Internal
Partner