Summary
In Deep Security Manager (DSM), the DSA on the Domain Controller (DC) shows the following error: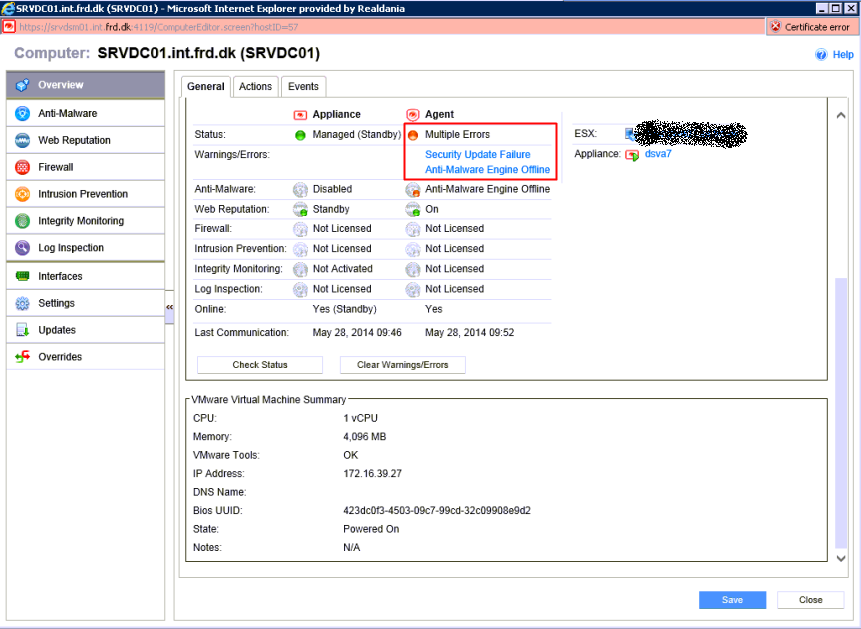 Under sysinfo.nfo, system drivers show the "Stopped" status:
The debug logs show the following entries:
2014/07/14 13:29:38.671,[01812:02912],[EVENT],[Core Update Manager], Update Finished. !!Trigger rollback!!,[.\UpdateManagerCallback.cpp(343)]
2014/07/14 13:29:38.671,[01812:02912],[EVENT],[Core Command Manager], Abnormal Event: 0 <== Restart Service Cause & Amsp error code ==>  0xe0ff0018,[.\CommandManager.cpp(773)]
Details
Public
The error occurs because of failed initial installation possibly caused by the User Access Control (UAC). Another reason for the error is the incomplete uninstallation wherein the system drivers still remain in the machine.
To resolve the issue:
Remove DSA from the Control Panel.
To double-check if all DSA components are removed, refer to the KB article on Manually uninstalling Deep Security Agent, Relay, and Notifier from Windows.
Reboot the machine, and then install the DSA again.
Internal
Partner