Summary
You are unable to view log details of blocked progams via the system tray icon of (TMEAC) when IE ESC is enabled.
Details
Public
TMEAC allows users to access log details using the system tray icon:
Right-click the TMEAC system tray icon.
Select View Recent Logs to open the Application Control Agent console.
Click any of the View details link to show more information about the log entry.
However, if IE ESC is turned ON, nothing happens when you click the View details link. You may also encounter other issues with IE ESC such as the Server Status appearing as "Not Connected" when viewing the About information in the Application Control Agent console.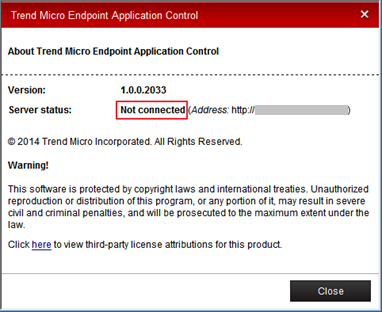 This issue normally happens on Application Control Agents installed on Server Platforms where the IE ESC feature is available, such as Server 2008 or 2012. To resolve this issue,
Disable IE ESC
 using the Server Manager Tool of the Microsoft Management Console (MMC).
Internal
Partner