Summary
When you install OfficeScan 11.0 on a Windows Server 2012/2012 R2, the following error message shows:
An error in the Plug-in Service program occured. Unable to install the Trend Micro Security (for Mac) server. Microsoft SQL Server Express 2008 R2 SP1 is required for installation. (KB: https://success.trendmicro.com/solution/1097700-unable-to-install-tmsm-2-0-or-idf-1-5-sp1-patch1-plug-ins-on-windows-server-2012)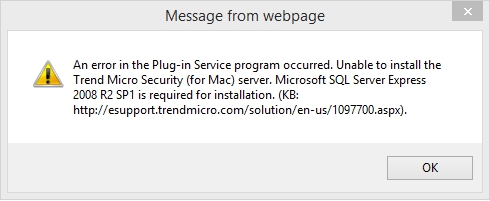 The target OfficeScan is not version 10.6 SP2. Tool installation aborts.

Details
Public
The TMSM Plug-in installation automatically installs SQL as part of its package. It uses the SQL.exe located under the ..\Trend Micro\OfficeScan\PCCSRV\Admin\Utility\SQL directory.
The issue occurs because the installer is still on SQL 2005 Express, which does not work with Windows Server 2012.
To resolve this issue:
Navigate to ..\Trend Micro\OfficeScan\PCCSRV\Admin\Utility\SQL folder.
Rename the SQL.exe (e.g SQL_bak.exe or SQL_old.exe).
Create a copy of SQL_2008.exe on the same folder, which is located on the same folder, and rename it as SQL.exe.
Run the installation for the TMSM plugin.
The installation should work now. If the issue persists, do the following:
Get a screenshot of the error message.
Gather all the logs under the C:\ drive. The logs are in TMSM_*.txt.
Send the files mentioned above to Trend Micro Technical Support.
Internal
Partner