Summary
This article discusses the actions by the Enforcement Agent of InterScan Web Security as a Service (IWSaaS).
Details
Public
IWSaaS Enforcement Agent ensures that IWSaaS users will go through the proxy whether they are in the office or roaming.
It also deploys necessary IWSaaS certificates on the device or local machine.
After the Enforcement Agent is installed on a computer, the agent is represented by an icon in the system tray.
When Protection is enabled:

Enforces the system proxy to be set to the specified PAC file. The Enforcement Agent will change the system proxy back if it is changed.
Ensures that the Firefox proxy settings are not changed.
If these settings are changed, the Enforcement Agent notifies the user to change them back. If the settings are not changed back after five minutes, Firefox closes.
When Protection is disabled: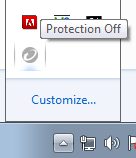 Is set or to use No Proxy.
The Protection becomes off when the agent finds client has no Internet connection. This happens when a customer is on a location with poor Internet connection or hotel using wi-fi which requires authentication to access the Internet. In this case, the browser will keep loading the page. As a workaround, users can set their browser to Automatically Detect System Settings. 
The Enforcement Agent will be re-enabled automatically and re-enforce the IWSaaS setting once the Internet connection is stable.
For more information about Enforcement Agent, refer to the following Online Help topic: Enforcement Agent.
Internal
Partner