Summary
When accessing the Local Area Connection properties under Control Panel > Network Connections, the Windows Explorer may stop responding and this error may occur:
Some of the controls on this property sheet are disabled because one or more other Network property sheets are already open. To use these controls, close all these property sheets and then reopen this one.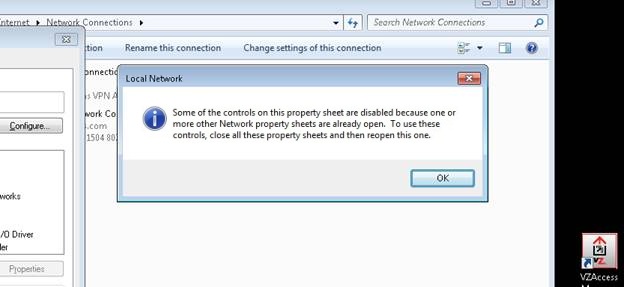 Details
Public
To solve this issue, add exclusion to the C:\Windows\Temp\dneinst.log file:
Log on to the OSCE web console.
Go to Agents > Agent Management.
Right-click the affected agent.
Navigate to Settings > Scan Settings > Real-time Scan Settings.
In the Scan Exclusion List box, choose Adds paths to.
In the next field, add "C:\Windows\Temp\dneinst.log" and click the + button.
Click Save, then hit the Close button.
Internal
Partner