Summary
When you try to install an OSCE patch or service pack, the following error may show during extraction:
There is not enough space on drive C:\ to extract this package.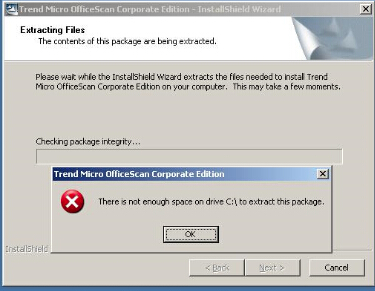 Details
Public
To resolve the issue:
Create a new temporary folder on a hard disk drive other than the one where you are trying to install OfficeScan.
For example, if you are not installing OSCE in drive D, create the D:\Newtemp folder.
Click Start > Run.
Type "cmd" and click OK.
Run the following command on the prompt to save the original value of the TMP environment variable and press ENTER:

set saveTMP=%TMP%

Type the following command to assign the TMP environment variable to the newly created folder and press ENTER:

set TMP=D:\Newtemp

Check if the TMP is set to the new path using the command below:

echo %TMP%

Install OfficeScan 11.0 again.
For more information about this procedure, refer to this Microsoft article: You receive an error message about inadequate hard disk drive space when you install Microsoft Business Contact Manager with Outlook 2003.
Internal
Partner