Summary
The User Name is shown as "0.0.0.0" in the logs page of the ServerProtect Management Console. This happens because during an on-demand task scan for ONTAP 9, NetApp sends a hyphen (-) as the client IP and "On-Demand" as the user identity, which results in ServerProtect being unable to get the IP address for the client information.
Details
Public
Environment
Storage platform: NetApp ONTAP 9 C-mode
Products:
SeverProtect for Network Appliance Filer 5.8 Service Pack 1
ServerProtect for Storage 6.0
Description
On the ONTAP 9 storage side: when the on-demand task is triggered, the scan requests are sent to ServerProtect.
On the ServerProtect side: the virus logs are recorded once a virus is detected.
In the virus log page: "0.0.0.0" is used as the User Name for the on-demand task.
For example, you will see the following information when you view the logs: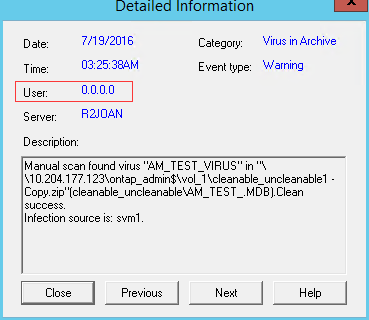 Internal
Partner