Summary
If VPA is installed on a machine that uses "http_proxy" or "https_proxy" system environment variables, the VPA service may be terminated unexpectedly after activation or if user attempts to upgrade VPA, it will fail to download agent software files.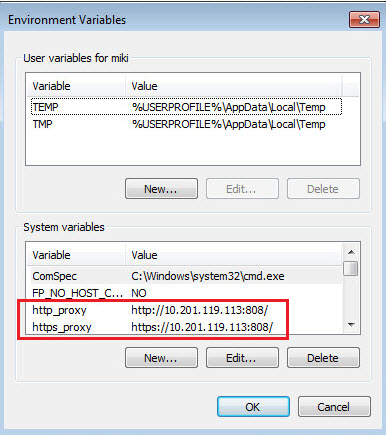 From the agent log, it will show an error message when the agent attempts to download DSP file:
2016-09-13 00:00:40.418018: [Info/5] | Failed download of 
Feature-DPI-Windows-9.6.1-1308.x86_64.dsp from https://:4122/:
 HTTP/1.0 200 Connection established
Details
Public
The issue occurs because the agent will automatically pick the proxy defined in http_proxy and https_proxy environment variables even if there is no proxy used between Relay and Agent, which further causes failure when the agent downloads DSP files.
To resolve the issue, if the customer environment does not have to use proxy environment variables, it is suggested to remove these proxy environment variables for VPA to download DSP files properly.
However, if customer environment needs to use proxy environment variables, follow the steps below to set one environment variable "no_proxy" on the agent machine. The connection between Relay and Agent should bypass the proxy.
Open System Properties.
Go to Agent Machine.
Click Advanced tab.
Choose Environment Variables.

A new system variable name "no_proxy" will appear. Input the Relay's hostname or IP address for the variable value shown below.

Reboot the agent machine.
Try to enable feature or upgrade the VPA to deploy DSP files again.
Internal
Partner