Summary
Trend Micro EAC 2.0 SP1 Server Patch 2 Build 1568 is now available in Download Center.
Details
Public
This release is cumulative and contains all product changes released since EAC v2.0 SP1 Patch 2. The following are the product enhancements and resolved known issues in this release:
Product Enhancements
The latest agent is now available for download on the Trend Micro Application Control Server agent download page.
Resolved Known Issues
Issue: The server receives a time out from an upstream server while acting as a gateway or proxy.
Solution: This patch resolves an issue related to unterminated PHP processes.
Issue: Various issues addressed in previous hot fixes were unavailable to customers.
Solution: This cumulative patch release includes all previous hot fixes.
Issue: An attacker may be able to launch Pre-Auth Server-side request forgery attacks through specific PHP functionality.
Solution: Vulnerable parts were removed from the widget framework component.
Package Availability
Download EAC 2.0 SP1 Server Patch 2 Build 1568.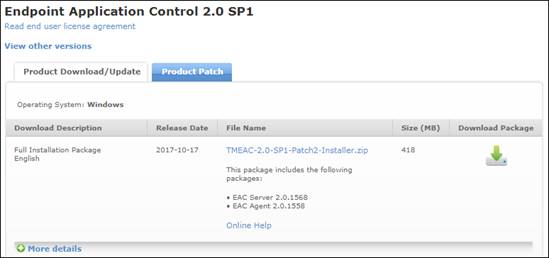 Installation and Upgrade
Download TMEAC-2.0-SP1-Patch2-Installer.zip and extract it to a local temporary folder on a target machine, or on an existing Endpoint Application Control Server. Run the setup package according to the current Windows OS Architecture (i.e. x32-bit or x64-bit versions). For more information on how to install and upgrade the EAC Server to the latest version, please refer to the Endpoint Application Control 2.0 SP1 Patch 2 Server Installation page.
Internal
Partner